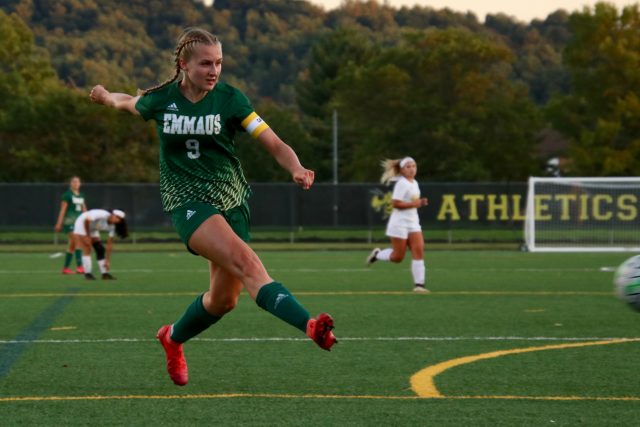 The Emmaus girls soccer team moved to 4-0 on the year as they picked apart the Allen Canaries for another 9-0 victory. 
A season filled with nothing but smiles for the Hornets continued Friday as they celebrated senior night. Six minutes in and the team had already jumped out to a 4-0 lead, Maddi Woodward and Gianna Buysee each putting 2 in the back of the net. Some milestones were also reached in the second half as seniors Lindsey Aiken and Julia Worthington both scored their first varsity goals. The rest of the goals were scored by Hannah Yencho, and two by Sophia Candy. 
Aiken was thankful for the opportunity and grateful for the support from her teammates. 
"It feels amazing," Aiken said. "It's just really cool to be a part of something. Being on a high school sport is awesome and I just love doing it." 
It's easy to get lost in the numbers after four wins reaching the mercy rule, but the Hornets' first true test of the season is set to come Monday when they take on Central Catholic. Aiken believes the team has what it takes to not only beat the Vikings. 
"If we play as a team and stay strong, then we can definitely win," Aiken said. "We had strong continuity with our passes tonight and a lot of runaway opportunities. That will help us in any game." 
The Hornets take on the Vikings on Oct. 5 at home at 6:30.