With the high school sports season well underway, student athletes are back into the swing of things and here are some highlights that you should know. 
Fan Attendance Policy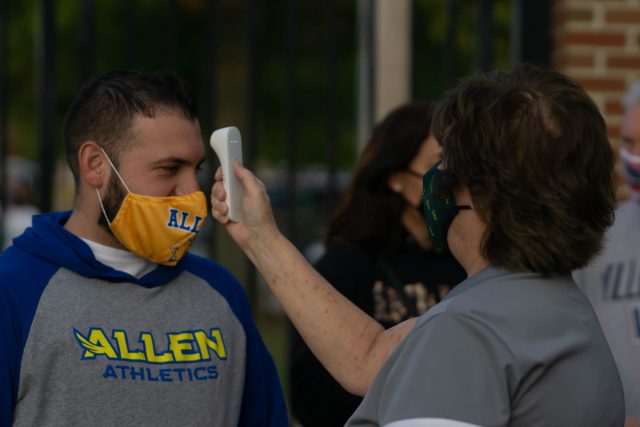 With many businesses reopening, a lowering of local COVID-19 cases according to the Center for Disease Control, and professional sports teams allowing a limited capacity of attendees, many fans hoped they would be able to support Emmaus athletics this year; this hope was mostly shot down by the district's latest ruling. 
 On Thursday, Sept. 24, the district announced its policy for in-person attendance of athletics. This decision came just in time for the start of many fall sport seasons. The guidelines are as follows:  
EPSD Stadium Football Events All Levels:
2 tickets per student-athlete for football and cheer
2 tickets per band member
Soccer/Field Hockey Memorial Field:
3 tickets per student-athlete for home team
EHS Auxiliary Gym  
2 tickets per student-athlete for home team
Eyer and Lower Macungie Gym  
2 tickets per student-athlete for home team
In the statement issued, Emmaus High School Athletic Director Rebecca George wanted to end all speculation surrounding fan attendance. 
"Numerous discussions regarding spectators at East Penn fall athletic events have occurred over the past few days and weeks for that matter," George said. "Specifically the following were considered, the total number of spectators and athletes at each venue; the total capacity of each venue; whether the venue is indoors or outdoors, roster size for East Penn, roster size for opposing schools, number of game workers, management of spectators, concession stands, restrooms and so on." 
As for how tickets are going to be distributed, that'll be left up to the players. 
"Tickets will be distributed through the head coaches to the players, for player distribution," George said.  "Please note that should there be any further legislative action that reinstates the 250 outdoor/ 25 indoor limits, we revisit our spectator guidelines."
This ruling, although keeping in line with Gov. Tom Wolf's recommendations, is a particularly harsh blow to the Hornets Nest, a group of seniors responsible for leading the Emmaus student section. They still held out hope that they would be able to fully enjoy their final year of high school sporting events. 
"The Nest is very disappointed that the Emmaus student section might not make an appearance," Hornets Nest members said in a statement. "We are holding onto our hope in the school letting students go to games, especially for the seniors that want to enjoy their last year to remember their Friday nights. No matter what, we are here to support our sports teams." 
While still remaining disappointed, Hornets Nest member Danny Bohman still hopes to be able to support his fellow classmates in any way possible. 
"As seniors, we are really focusing on what we can control and that's supporting our peers and fellow seniors," Bohman said. "We really hope we can make more of an impact during their games to root them on." 
Football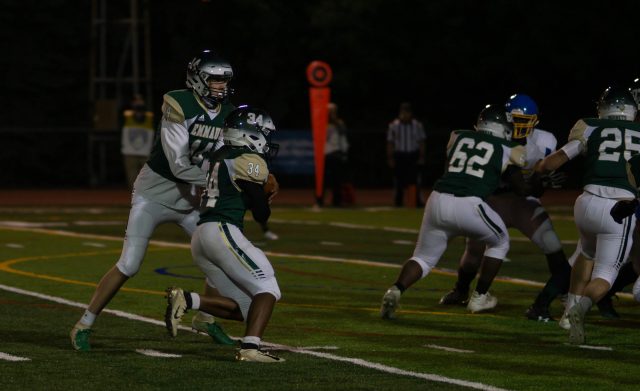 Despite a couple of unanswered questions, Emmaus football looks forward to their season, winning the first game of the season 58-0
Last season, the team ended with a disappointing 5-6 record, and due to the delay caused by coronavirus, the team will only get five games to prove their worth, likely needing to run the table in order to make a district playoff.  
Senior Aidan Dougherty believes the three-month delay was an obstacle to the team, but not one that the Hornets aren't able to overcome. 
"Losing that much time was tough because we weren't able to build up our teammate chemistry, any endurance, or strength in that time because we couldn't go in the weight room," Dougherty said. "We would have zoom meetings to put in plays but there's only so much you can do on zoom. That was a huge challenge but with the guys we have I know we can overcome it." 
Senior and star running back Brandon Camire echoed that sentiment, believing his team has what it takes to overcome coronavirus concerns. 
"It was definitely hard to get used to all the guidelines," Camire said. "It is what it is and we just got to be able to look past it and perform. I know we can do that." 
What might be harder to ignore are the question marks that this team leaves on the offensive side. The starting quarterback has yet to be named with only a week until the start of the season, and a young offensive line leaves many wondering if the eventual QB will be adequately protected. 
While Camire worries about the line, he has faith that they'll be able to come together. 
"We have two big gaps on the line from [graduated] seniors that have been filled by younger kids," Camire said. "As a running back, it was concerning, but as practice has gone on, I see improvement and I believe it'll be fine."  
What is less concerning for Camire, however, is the starting quarterback. 
Last year, starting quarterback Alex Lanzone injured his shoulder, sidelining him and allowing backups to fight for his spot. 
When he returned from injury, a three-way battle for the position unfolded between Lanzone, junior Jake Moyer, and freshmen Jake Fotta. Now, one year later, Lanzone is out, leaving the Emmaus job as a two-way race. 
Camire is unbothered by Lanzone's departure and believes either QB will be able to pick up the slack. 
"I don't think Lanzone was going to start regardless of if he was here or not," Camire said. "We have the two Jake's and they have been doing well. They both got on the field last year and they both have gotten plenty of reps this off season so I'm not concerned."   
Dougherty also believes both QBs can —  and will  — make an impact this season. 
"They're your teammates so you got to support them no matter what," Dougherty said. "I wouldn't be surprised if you see both of them go out there and get meaningful reps. It'll definitely depend on the situation and I trust both of them in any situation." 
With all that being said, Dougherty has one goal for this season. 
"If there's one thing we know is that we don't really know," Dougherty said. "We could play one game, all the games, no games. With this virus, nothing is guaranteed, so we got to play every game like it's our last because it very well could be, and I want to win every game."
Field hockey  
The Emmaus field hockey team expects to take the upcoming season by storm with habitual practice, training, and teamwork to execute each game and keep up their reputation. 
The team is anticipating a distinguished season amid the pandemic and condensed sports season. The team's first game was on Saturday, Sept. 26, home against Dieruff High School. The team dominated this game winning 13-0. Along with Dieruff, the team will also play against Allen, Whitehall, and Parkland, having one home game and one away game each. The team will come together this season with a collective goal of proceeding to the East Penn Conference District 11 championship as well as the state championship. Both the junior varsity and varsity team are actively preparing for their first game this season with an end goal of being undefeated.  
Head coach Sue Butz-Stavin acknowledges the burden of the new guidelines this season, but refuses to let her team derail from the primary goal and expectation of performing well and trying their best.
"We're trying to keep the kids in shape," Butz-Stavin said. "We want them [to be] field hockey fit to meet the demands of the game. [We're] constantly working on fundamental skills, execution, and then we work on our different set pieces." 
Butz-Stavin has been coaching the team for 45 consecutive seasons leading to numerous championship wins and national recognition. She has bred Division I athletes who later went on to continue their success on the field in college. She is devoted to helping each member of the team improve their skills and mindset moving toward each game.
Senior defensive player Madison Bruns has an optimistic outlook on this season, sharing the extent of her motivation.
"I'm really motivated and I'm actually really excited because in the summer it was up and down and hard to stay motivated," Bruns said. "Everyone didn't know there was going to be a season but now that we have a set number of games, I know everyone's pumped."
Although this is Bruns' final Emmaus season, she hopes it won't be her last. Bruns intends on continuing her athletic career in college, whether as a part of the team or a part of a club organization. 
Butz-Stavin is pleased that the team has the chance to participate in the 2020 season and with that, she wants the team to carry on as they always have.
"I'm elated that we got some type of season and that we're playing and that they didn't cancel the season for us especially because of the seniors," Butz-Stavin said. "We're not going to get hung up on the things we can't control because that will just bring you down. We just want to make sure that we stay positive and take care of the business and the things we can control."
Boys Soccer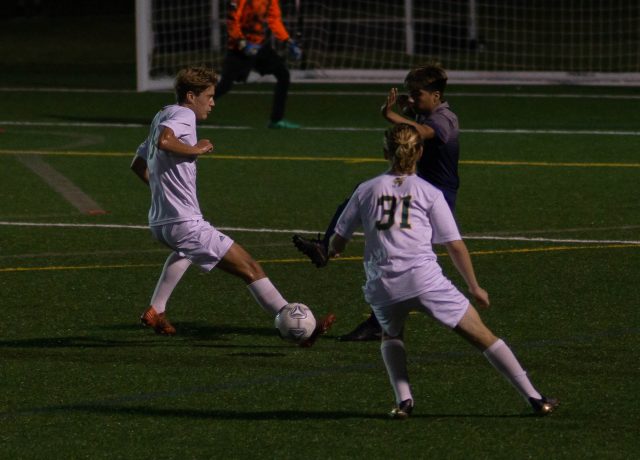 Coming off an EPC and District XI championship, the boys soccer team is hungry to get back on the field and do it all over again. 
The team played its first game on Sept. 25, beating Dieruff 3-0, and setting the tone for what they hope to be a successful season. The team lost a considerable number  of seniors to graduation, and with the delayed start to the season limiting their practice time, it'll certainly be a challenge to repeat as champions. 
The biggest question mark left open on the roster is the loss of goalie Chris Buck, due to a recent injury. The senior was a major part of the success the team enjoyed last year, but Buck doesn't seem fazed by the injury. 
"Right now they say I'm going to be out for six weeks, so I hope to be back for the playoffs," Buck said. "We have so much depth in this lineup. There are guys who can step up and perform in a big way so i'm not concerned about it." 
Senior Jake Hain claimed a varsity starting spot this season, benefiting from the graduation of so many seniors that kept him to a limited role last year. He believes that he and many of his teammates in similar positions are going to be able to step up in a big way. 
"People like me didn't play as much last year," Hain said. "This shouldn't be a problem. It's the same system that I've been working through for three years and I know that when I get out there, I'll be able to fill in the gaps, and my teammates will do the same things."
Hain is definitely confident about what this team can accomplish, but he hasn't forgotten the pressure that is on his team. 
"[The goal] is to win Districts, no question," Hain said. "We're Emmaus. It doesn't come with it but at this point it is sort of the expectation." 
Buck also believed in the same end goal. 
"Win leagues and then Districts, that's the goal," Buck said. "That's pretty much what everyone is shooting for. When you win it last year, there's definitely a target on your back and added pressure, but I honestly believe that we can do it." 
Girls Soccer
Last year ended in heartbreak for the girls soccer team, a first-round exit that left many in shock. This year they hope to bounce back. 
The first round District XI playoff loss was not what the team expected last season as they fell to underdog Freedom High School, leaving many of the players in tears. Current senior Grace Ashmar was devastated by the loss, but is ready to come back and take care of business. 
"That loss to Freedom was just so emotional because we didn't expect it," Ashmar said. "I think that so much was learned from that loss, most important being that you can't take any opponent for granted. To come back from that, it's all about mindset, playing tough no matter what and not getting too comfortable like we did against Freedom." 
Since last year, the team has lost a total of 14 players to graduation, and many wonder if the team will be able to repeat the season success that last year's team accomplished. 
Galvanizing her troops, team captain Maddie Brown believes her team is poised to make a successful run at the district championship this season. 
"We lost [14 seniors] so it's like we're building a new team this year," Brown said. "Last year we were definitely a team with a target on our back. This year we have less outside expectations and in a way that has made it easier for us. As a team we have the same goal and that is to win districts, and that's something I definitely believe we can accomplish." 
Brown believes that the limited sports schedule will actually help the Hornets' chances throughout the season. 
"We only play 10 games this year, and that'll really help us going into districts," Brown said. "I think we have the talent to win all 10 and that's what's going to be beneficial to us. We haven't really changed the way we play, just who's out there, and I believe in all the girls we have coming up to fill the open spots." 
The team has taken the most of their opportunities, winning their first three games by a combined score of 27-0. Ashmar hopes the team keeps this up.
"[I just want to say] that I was able to leave behind the biggest impact that I could," Ashmar said. "I want to leave my mark on each game as much as I can, because at the end of the day we don't really know how many games we'll play. No matter when it ends I just want to say that I feel accomplished and that I left no regrets on the field."
Cheerleading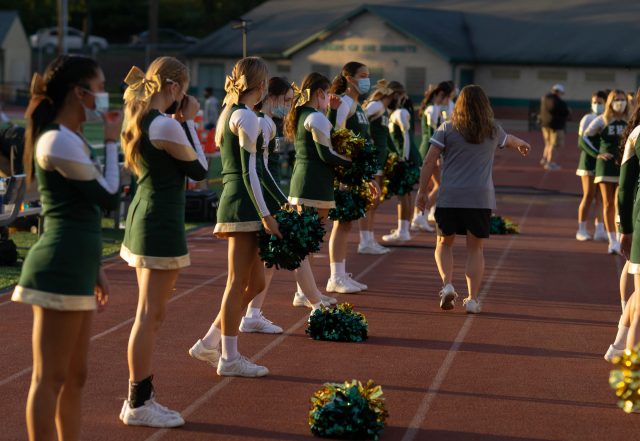 The Emmaus cheer team has no intentions of being stifled by the delayed start of the sports season and has high expectations about the year ahead.
The team will be able to cheer at football games beginning in early Oct. with modifications in compliance with the Pennsylvania Interscholastic Athletic Association guidelines for returning to competitions. Although they are able to cheer at football games, the competition season is still uncertain. The season would generally begin midway through Aug. with the team's annual camp, but with the pandemic stripping the opportunity away, it was not able to happen this year. Throughout the summer, the team has been practicing in small pods and have not been all together as of the beginning of Sept. but as time progresses, coach Lori Schaeffer plans on combining the pods to create one collective group.
  Head coach Lori Schaeffer takes note of the team's ability to cooperate with the new guidelines for athletics.
"The athletes have done an amazing job this summer of following the rules," Schaeffer said. "It will be a very different year but we will make it through [and] I sincerely hope that school and sports do go back to normal very soon."
Schaeffer has been coaching for the past three years for the varsity team and coached the middle school team for 15 years and has yet to experience a season like this one. She believes that even though there are challenges this year, the team can overcome any obstacles in the way and make the best of it. 
Senior side base Ashlee Leonard expresses her optimism despite the unprecedented circumstances.
"As a senior, there's a sense that I have missed out things and will continue to do so this year," Leonard said. "[But] I would love to go back to states and have the best year ever with [the team] and finish my time [at Emmaus] strong."
The team is preparing for a year distinguishable from others. They plan to develop their technique and style and have their competitive spirits help drive them far this year. The possibility of a competition season is still undecided as of Sept. 6 according to Schaeffer but the team will still strive to represent Emmaus well at the sports events they cheer at this year. 
This season being Leonard's final season, she prioritizes making a name for herself as well as her team.
"It was defeating to hear that we might not have a season and to have uncertainty that I'm sure many other athletes felt along with other clubs and activities," Leonard said. "[but] now I feel so motivated to work hard for our team to do well this year."
Golf
The 2020 golf season brings a challenge for the Emmaus team to overcome, with new mandates and inconveniences that they've faced but simultaneously having unwavering expectations about their ability to succeed. 
The Emmaus golf team returns strong with a solid win-loss record this season. As of Sept. 23, they competed in eight matches, with six wins under their belt and just two losses. In comparison to past seasons, the team will only play against five other teams this season including Whitehall, Nazareth, Central Catholic, Parkland, and Liberty. Despite the mandated guidelines athletes must follow, the team holds high expectations. Each member of the team, along with other athletes belonging to other sports, must respond to a series of questions relating to COVID-19 and undergo a temperature check to determine if they're eligible to play prior to each practice. 
Head coach Mo Bryan is confident in the team's ability to overcome the obstacles this season has brought their way. 
"The season started off great but we have had a few setbacks and may have lost one of our top players for the rest of the season due to an injury," Bryan said. "We started off great but now we are going to have to dig deep and finish the season strong."
Bryan also mentioned reducing the size of the team from the 2019 season to ensure the safety of other players. Regardless of reducing the team size, Bryan still projects a successful season with an ultimate goal of advancing to districts and competing in states to conclude the season 2020 victoriously. 
"I know how competitive my kids are and they are really good at golf," Bryan said. "They have set their own goals, some would like to improve in certain areas of their game and others would like to better their average."
Senior Michelle Cox has been a part of the team since her freshman year, and observed the major changes she's experienced this season so far due to Covid-19. 
"Temperature checks and a list of questions every practice is the most obvious change," Cox said. "You aren't even supposed to high five a teammate." 
Although Cox's last season playing for the Emmaus team was not how she anticipated, she is optimistic for her next four years. In the fall of her junior year, she committed to playing Division I golf as a part of Penn State's [Big Ten Conference] team. 
"It feels like I'm missing out on certain things [and] I don't like how my last year wasn't as I envisioned it," Cox said. "I know I have four years at Penn State but I feel for everyone else being disappointed." 
Girls Volleyball
The 2020 Emmaus girl's volleyball season is underway with a team that is ready to dominate the court with the same effort they've put forth previous years. 
The Hornets will play 11 games this season, being matched against Allen, Southern Lehigh, Central Catholic, Whitehall, and Parkland aside from Dieruff. The games are now allowed up to two spectators maximum per player. Regardless of the circumstances, the team still has high hopes of qualifying for the Pennsylvania Interscholastic Athletic Association volleyball championships for the third consecutive season. The community can expect nothing less from the team as they plan to put their best foot forward in each game they play.
Senior outside hitter Makenzie Krasley is appreciative of the opportunity given to athletes to have a sports season considering it is her final season as well as some of her other teammates who are also seniors. 
"Our coaches have put the most effort into making our senior season as normal as possible and us as seniors appreciate that more than they know," Krasley said. "If anything, I feel more motivated to take on this season than before knowing how hard we pushed and worked to make this season happen in safe conditions."
In her years of playing volleyball, Krasley has never been faced with a season like this one but will continue to keep a positive attitude and perform well, if not better than past seasons. She mentions that the altered sports season only adds to the motivation they already have even if some team members aren't returning from the 2019 season. Tryouts for the 2020 season took place in early Sept. and resulted in a smaller size team than previous seasons to reduce the risk of spreading COVID-19 among players and coaches. 
Senior outside hitter Jaya Bhagat highlights the dynamic of the team and how working collectively will only benefit them.
"We have a solid offense and defense and I believe we can succeed," Bhagat said. "This year we need to build off of each other and know we can rely on one another."
Bhagat and Krasley both have plans on continuing their athletic careers in college hoping to bring the same energy to the college courts as they did throughout high school. The team this season is paving the way for future teams by displaying signs of resilience and cohesiveness against all odds. 
Bhagat concludes on a bittersweet note noting that although she doesn't get to experience a typical senior season like former seniors have, she is grateful to have one. 
"As a senior I do feel as if I'm losing out on a lot of experiences," Bhagat said. "I'm just happy that I get to have a season at this point given the circumstances."
Girls Tennis 
Starting their season earlier than most, the girls tennis team wrapped up a successful season, finishing with a record of 5-5. 
The team will be sending junior Jocelyn Chow to compete in the district singles playoff, and hope to send seniors Mia Columbus and Misa Hollinger to compete in the doubles tournament. Team captain Columbus feels satisfied and grateful that she was allowed to play her final year. 
"I think we've all worked extremely hard and I'm proud of the work that we accomplished this year," Columbus said. "Even though it's more of an individual sport, it's still a team, and we have all offered support to each other and I think we made it as good of a season as we could." 
Columbus believes the success the Hornets achieved this season was primarily due to the mental toughness they demonstrated, along with the physical play. 
"Our biggest problem has just been that sometimes we get in our own heads too much," Columbus said. "When we just relax and focus we get a lot of success. This year as a team we made an effort to try and have fun together, going to Wawa after practices, and that definitely helped our team bonding. 
With it also being her final year, Hollinger was pleased with what the season ended up being. 
"I think [it was a success]," Hollinger said. "It was definitely weird. Because of Covid we had to use two sets of balls and wear masks and stuff like that, but I can't complain. I love tennis and I'm so happy I got to play it. I just love it." 
The biggest success story for the Hornets this year was the play of junior Jocelyn Chow.  She was elevated to the number one singles position, beating out the two seniors ahead of her.  She will be competing in the district playoff. 
"I think this year we've played really hard and we've been really supportive all year," Chow said. "I've personally been working really hard and our coach has pushed us in order to get to districts. I'm really looking forward to everything and I'm hoping that districts goes well for us."