Emmaus Theatre plans return to movies following turbulent pandemic year
In May 2019, golf-ball sized chunks of ice pelted the roof of the Emmaus Theatre, damaging it so much the owners lacked the funds to repair it. 
After almost a year of fundraising through raffles and donations, "things started picking up really well business-wise," says owner Robert Audibert. "We were able to get our roof taken care of, we were on a good trajectory." 
Then came the spring of 2020 and the COVID-19 pandemic.
Like many other business and movie theaters around the country, the Emmaus Theatre was forced to close its doors to the public. They sold gift cards that could be redeemed when they opened up, and they partnered with their distributors for online streaming. But this wasn't sustainable. 
"It was actually kind of heartbreaking to stop right when we were on the rise," says Audibert. 
By the end of April, things were "very, very, very scary," says Audibert, which is why he posted the following message on Facebook about a GoFundMe campaign: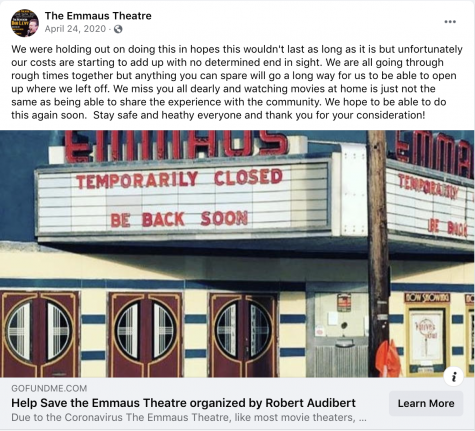 "We were holding out on doing this in hopes [the pandemic] wouldn't last as long as it is, but unfortunately our costs are starting to add up with no determined end in sight." The campaign, titled "Help Save the Emmaus Theatre," is linked below.
The campaign galvanized Emmaus residents, who contributed more than $15,000 "within three days," he says. That gave the theatre "wiggle room to start thinking about what else we can do." The Theatre began renting out their marquee for personalized messages, as well as the theatre itself. While the Emmaus Theatre had done theatre rentals before, they started doing a "pandemic special," a reduced price from before the shutdown. "Right now, we're doing $75 an hour, typically three hours for $225," says Audibert.
Audibert thanks the rich history of the Emmaus Theatre for the support it receives from the community. "We can do nothing but appreciate and thank the Emmaus community for really helping us out," he says. "The Emmaus Theatre is such a part of the Emmaus community's history, that even when, especially through this pandemic, if there's a whiff of us maybe closing down, people really come out and really show support." 
As restrictions settled down, the Theatre began doing comedy shows once a month. Since "live performers all around, comedians, musicians, really took a hit…we wanted to give them a space to be able to perform and make a little bit of money," says Audibert. "For a couple months, they would only allow us ten percent capacity. So we were only allowed 45 people inside, but we still just wanted to do it."
While the money from renting, donations, and live shows allowed the Theatre to stay open, costs were still an issue. "Unfortunately, we had to lay off 90% of our employees, and neither owners, myself nor my partner, took a paycheck since last year," says Audibert. It's unclear if and when the Emmaus Theatre will be profitable again, or return to pre-pandemic popularity.
"It's really kind of a guessing game," he says. "Our comedy shows have been well attended, for the most part, but it's really hard to say how the movies are going to go, which is why this next year we're gonna plan on mixing it up between live events and movies as well. It really depends on how fast people get vaccinated, if they feel comfortable being out in the crowd…We're just hoping for the best. We're going to open up and kind of just play it, you know, week by week."
To prevent the spread of COVID-19, the Emmaus Theatre keeps "every other row blocked off to promote social distancing," and also requires masks and temperature checks upon entry. Groups can sit together, and can take their masks off once seated. 
The Theatre plans to begin playing movies again starting this June. While Audibert isn't quite sure what movies will be shown yet, he's hopeful there will be a good turnout due to the allure of seeing movies in person. 
"Even though you can get the movies at home, you still need a place for date night, you need a place to meet up with your friends, you know it's a completely different experience," he says. 
As the Theatre goes back to playing movies, the marquee, which has had both sides rented out for over a year, is brought into question. When asked how it will function with the return of movies, Audibert was pretty sure that the theater was "going to do half and a half, one side will have the movie listings and the other side will have a message. It's been going good and it's been so much fun for everyone too." 
After 14 months of living in what seems like almost an alternate reality, many facets of everyday life seem to be returning back to normal––the Emmaus Theatre being no exception. However, remnants of the pandemic remain––in this case, the personalized messages on the bright red marquee that have been used for everything from birthday messages to proposals. One can only hope that the messages on the marquee become as beloved as the Theatre itself, a gentle reminder of how much everything has changed, for better or for worse.