Celebrating the festivities of Diwali
Predominantly in India, Jains, Sikhs, Newar Buddhists, and Hindus celebrate Diwali, often known as the Festival of Lights, over the five-day holiday. 
Falling between Nov. 2 and Nov. 6 this year, the dates are determined based on the Hindu lunar calendar, where each day holds a different significance. NPR states, the holiday occupies the five days to celebrate "the victory of light over darkness" through various stories. 
Though celebrated differently throughout parts of the world, the origin of Diwali is rooted in the stories of South Asian religions. The word Diwali translates to "Deepavali" in Sanskrit language, which means "row of lighted lamps." As reported by BBC, in Hinduism, Diwali commonly celebrates the return to Ayodhya of deities Lord Ram, Sita, and Lakshmana after their 14-year exile, but is not limited to just that. 
One of the other stories celebrated by some Hindus is the defeat of the demon Mahisha by the goddess Durga. Jains, Sikhs, and Buddhists are also known to celebrate Diwali, but for other purposes found in various stories. Despite being rooted in different narratives from different religions, the overall theme of Diwali celebrates the victory of good over evil through lights and colors.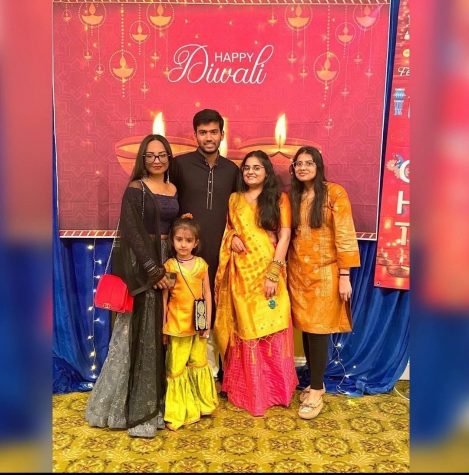 Shiv Patel, Emmaus senior, celebrates Diwali for the story of the return of Lord Ram, Sita, and Lakshmana with her family. As a Gujarati, Diwali marks the Patel family's new year, since their calendar differs from the typical American calendar. 
"I personally clean my whole house and we decorate our houses with diya and I make rangoli," Patel said. "We pray to God and we do our prayer on the day of Diwali. We give [baths] to all the gods we have at home and pray [for] happiness, prosperity, and [more]."
Patel notes that the way her family celebrates is likely different from how others might, since everyone has different traditions and beliefs of Diwali. For herself, the fireworks are her favorite part of the Diwali celebration. 
"Diwali is my new year so it has a very huge meaning to me because we have our new start of life," Patel said.
 "We wear new clothes, go to [our] family members [houses], and greet them. We make special food and sweets at home, we make [a] new dish every day, we pray every day, [and] we dance [depending] on people," she said.
Indria Tatikola, an Emmaus senior, also celebrates the Festival of Light holiday with her family, referring to it as Deepavali in her language. 
"For six days leading up to the day of Diwali we place five candles in front of our home and re-light them every night," Tatikola said. "My mom makes a shrine of all of our dolls and pictures of deities and things like that and we place flowers, fruits, incense, and other 'offerings' in front of the shrine every night. Then on the night of Diwali it's just a big celebration with friends and family and we do all types of fireworks, eat food, get dressed up, [and more]."
Despite Diwali being a vastly celebrated holiday across the world, Patel recognizes that not as many people are truly aware and understand Diwali here. 
"Well many people know about Diwali here, but not everyone, because it's a different culture," Patel said. "Even here in our temples we barely get to celebrate it. We only do fireworks for fun but nothing much as we [used] to do in India. We have a special holiday vacation for Diwali. 
"I wish everyone knew about Diwali [so] I get to have all the fun with other people," Patel said. 
Diwali presents itself as a time for families and friends to gather and connect with one another through the traditions passed down throughout history. With delicious food, delightful music, and vibrant colors, the festivities of Diwali illuminate a time of festivities for those who celebrate across the world.