Boy's soccer takes on Parkland for district title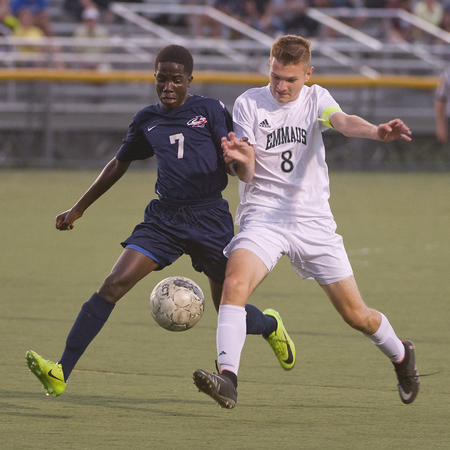 Tonight, Allentown hosts the 4th edition of the 2017 Cedar Crest Rivalry series, as Emmaus boys' soccer faces off against Parkland, looking to avenge a loss in the EPC championship.
This showdown has been in the works since the 2016 championship, where now senior Dakota Bauer sealed the Trojans' fate in a penalty shootout. This year, Bauer captains the team along with fellow seniors James Haag and Johnny Heberlein, seeking their third straight district championship.
It will all go down under the lights of historic J. Birney Crum Stadium, a regular host of the District XI Championship. The game follows the girl's championship, which is set to start at 5 p.m., and is scheduled to kick off at 7 p.m.
This season has been a spectacular one for the Hornets, including an 18-4-1 record under long time head coach John Cari, who has provided the leadership necessary for performing on the big stage. Accompanying the senior tri-captains are key contributors Max Hirshorn, Justin Llado, Thomas Hanvey, Noah Ross and goalie tandem Sam Cho and Seth Hetrick, who have both provided great performances between the posts.
The Hornets' regular season was filled with positives, including key efforts from the bench, and a tough defensive presence. However, the same thorn has haunted Emmaus all season: The Parkland Trojans.
Parkland has gone 22-1 overall this season, including an undefeated EPC record and an EPC Championship victory over Emmaus in October, winning 2-1. The Trojans have not won a district title since 2013, and are hoping to change that tonight.
Emmaus is seeking a third straight district championship, which would also be the third time in the team's history of doing so. A phenomenal feat to say the least, even from a program as decorated as the Emmaus'. Emmaus had the chance to steal the EPC Championship from the Trojans, but unfortunately came up short. They've left it late this postseason, but they've gotten the job done with several players coming up big in the clutch.
For many of the players who will experience tonight's game, there are no second chances. Eighty minutes is all that separates disappointment and glory. There can only be one representative in the PIAA state tournament.
There is no room for mistakes, because this is it.