The Spirit of Giving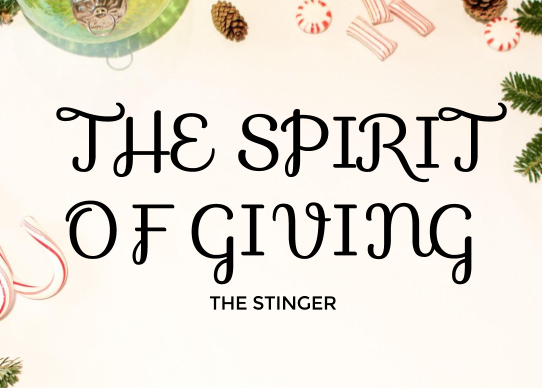 The Spirit of Giving
W
hen envisioning the holiday season, images of drinking cocoa, hanging decorations, and exchanging gifts often come to mind. While traditions like these make up a large part of that time from late November to the New Year, a spirit of giving also permeates the holidays. Charity and generosity, to some extent, take the forefront, not only through gift-giving to family and friends, but also through volunteer work and donations.
The Huffington Post and other news outlets, local and national, often compile opportunities for communities to give back to those in need throughout the season, and many service organizations, including www.volunteermatch.org and www.volunteernewyork.org designate sections of their operation solely to helping people find holiday volunteer work.
According to a 2012 GuideStar survey, 50.5 percent of the non-profit organizations surveyed reported receiving the bulk of their donations between October and December.
While these phenomena reflect the changed attitude of a greater population, some East Penn community members make giving back a priority all year round, in and out of the school setting.
The Stinger interviewed 10 of these people — students and teachers from around East Penn — who embody the spirit of giving.
by Cathryn Seibert
Angel Network
by Rylan Bassett
Put yourself in the shoes of a high school student who lacks the resources to purchase basic necessities such as foodstuffs and toothpaste.
The Emmaus High School Angel Network exists to help kids who do not have to imagine that situation. The Angel Network was introduced to EHS in the 2003-2004 school year by the principal at the time, Liz Drake, and a parent. The charity runs several food drives every year to make care baskets for receivers in addition to maintaining many other programs in place to help students in need.
This year's fall drive recently took place and faculty representative Heather Day shared her input on the turnout and the organization.
"I set a number and challenge my staff to meet that number… This fall I asked for 350 cans of tuna fish and I got 400," said Day, an FCS teacher.
Day also spoke of two "very special angels" who donated 96 cans of tuna fish on their own. When reflecting on the drive and how the community came together to help one another, she said that it is "just a lovely thing to see."
The Angel Network compiled 140 care baskets on Nov. 15 at the Lutheran Church of the Holy Spirit. They received 1,800 food donations during this drive from the EHS foreign language department alone. They also collected from sports teams, Student Government Association, Emmaus Band, and other clubs and groups. Students from Future Business Leaders of America, American Red Cross, and Key Club often assist with putting together baskets for the Network.
One of the food program coordinators, Laurie Fine helped during the compilation.
"We believe all kids are our kids and we want them all to to succeed in high school," Fine says.
The Angel Network does not deal solely in food drives. It can also provide help based on more personalized needs with their other programs. Their prom program supplies students who want to attend prom with donated attire and monetary assistance for admission. There is also the Educational Angel Grant, which is managed by guidance. The grant pays for approved academic expenses for students selected to receive it.
These programs are monetarily supported by donations to the Angel Fund. Most of those donations come from outside sources in the community. The network keeps a giver list and uses it to request specific items from consistent donors with no obligation when the need arises.
The number of students requesting assistance has gone up and luckily, the number of donors of all types has risen with it.
Angel Network liaison Jennifer Carolla, an Emmaus guidance counselor, gave her input on the gradual increase she has observed during her years occupying the position.
"I think word is getting out there more about who we are and our mission, and people in the community want to help more," Carolla says.
The rise in donor support can be partly attributed to the organization qualifying as a 501(c)(3). This means that it is exempt from income tax on donations under the Internal Revenue Code, which encourages more donations.
Though the community has been doing well in terms of donations and support for the organization, and has met all of their goals, there is always more to be done.
"We are always looking for more donors," Carolla says.
The Angel Network's mission is "providing basic assistance to students on an immediate short-term basis." There are still students who lack resources in our community, and the Angel Network works to help them when they need it most.
Grace Harnett
by Victoria Rivera
Attending a dance for special education teens is one of the many things Grace Harnett can add to her list of good deeds.
Now a junior at Emmaus High School, Harnett joined Key Club during freshman year and now holds the title of club president. She started working with teenagers with disabilities during her sophomore year.
Amy McConlogue, an advisor for Key Club, originally encouraged Harnett to start her work with teenagers with disabilities.
A special education teacher, McConlogue joined Key Club last year and offered a position for the students to help teenagers with disabilities. Harnett gladly signed up. McConlogue, however, was not ready for the work that Grace was willing to put in.
"She would just come here and work with the students," McConlogue said.
Instead of going to lunch, Harnett spends her time working with the teenagers. Harnett goes on field trips with them to teach them mini life lessons. One of the field trips, for example, is taking them to a restaurant and only having the teenagers sit with each other.
McConlogue believes that Harnett is upbeat, giving, patient, and bubbly. Harnett goes to every Key Club event and is always willing to help .
"She does whatever she's needed to," McConlogue said. "Grace just does more and more. She always looks like she's having the best time."
Harnett attended a dance last year that Key Club set up for the teenagers with disabilities. The dance was held in the FCS room because regular school dances can be too loud for the teenagers and can give them anxiety. Harnett danced, took pictures, set up, and cleaned up for the event.
"She's pretty much willing to do anything with the kids," McConlogue said.
Harnett has to balance her busy school schedule and her Key Club schedule in order to help out, but still shows up to all events. Her most recent project was setting up for Cops 'n' Kids, a literacy program for children that can not afford books.
"I really like giving back, it's just a feeling you get," Harnett said.
During Harnett's freshman year, she spent her time tutoring students at Willow Lane Elementary School. Harnett used to help the children with their homework or studying.
Key Club has changed Harnett for the better. Although she still faces challenges while volunteering, Harnett maintains a positive attitude and knows that her work is appreciated.
Throughout all of Harnett's years in Key Club, she has influenced many children. However, the children will always have a lasting effect on her. They have made her life better just by allowing her to help.
"I'm actually having an impact on people," Harnett said. "I have that drive to help people more."
Austin Huyssen
by Joe Eckstein 
The rank of Eagle Scout has been given out since 1912, and for someone to achieve said rank, they are required to show exceptional effort through every stage of the Boy Scouts of America.
Emmaus High School is fortunate to have several of those exceptional students walk through our hallways — and one of them is Austin Huyssen.
Huyssen's journey through Boy Scouts began in his homeland of the Philippines.
"I've been in the scouts for six years," Huyssen said. "I spent two years in the Philippines. I moved here in 2012."
His choice to join the Scouts was inspired by his brother, who he saw in the program. His brother's involvement prompted him to join.
"My older brother was in it, they did activities like this, camp outs, I thought it would be fun," Huyssen said.
For his Eagles Scout project, Huyssen wanted to do something that would benefit Emmaus High School.
He decided to do something outside of the box, or more accurately, outside of the hallways. And so he created an outdoor classroom. The new learning space can be found outside the nurse's office, next to the band and health rooms.
Huyssen feels that the classroom is a positive contribution to the school.
"It has provided the students the unique opportunity to learn in an environment that isn't concealed by an enclosed room, where the lighting is 100 percent natural," said Huyssen.
Huyssen feels that the benches are an important part of the classroom, as he believes they offer versatility and comfort.
"Each bench has a feature you can sit on with a back support," said Huyssen. "If the sunlight is shining to bright in the students' eyes, the teacher can turn the benches. The benches aren't that heavy so they can move them into groups if they want."
Completing this task was not easy and required excessive amounts of hard work and dedication.
Huyssen went into the project accepting the challenge.
"I thought this project would be a challenge enough and be worth the time and effort," he said.
It required a tremendous amount of work and took almost two years to complete, according to Huyssen. All of the materials that went to making this project were contributed by  fundraisers.
Huyssen hosted two events to raise money for his supplies.
"The first was spaghetti dinner at the Mason Lodge and the second was at Italiano Delite in Emmaus," said Huyssen. "81 people came to Italiano Delite."
The supplies were mainly the two by fours required to create the benches, and in the end, Huyssen collected over 100 planks for his project.
Along with the benches, Huyssen also added a podium and whiteboard to the classroom.
Despite the amenities the classroom provides, Huyssen has noticed that teachers have not used the classroom, and the scout hopes that they will start in the near future.
"I only hope that teachers will take advantage of this opportunity," Huyssen said. "I would love to see the outdoor classroom in use soon."
Julia Dunn
by Chloe Gerhard
Julia Dunn first joined Emmaus's Pediatric Cancer Club in her freshman year, but wasn't a part of it her sophomore year.
This was because the club no longer existed. After Dunn's freshman year the students who ran the club graduated and the club disappeared. Afterwards Dunn hoped to re-establish the PCC.
"It was kinda always my goal to bring it back and hopefully be the president of the club," Dunn said. "Junior year I had the opportunity to start it up again."
Dunn met with a few advisors and they discussed possible officers and members and she shared what she did in her freshman year with the PCC. They brought the club back in Dunn's junior year.
Dunn, now a senior, is the current president of the PCC, which has grown since Dunn helped re-establish it.
In its first year, the PCC raised around $10,000 through events like Gold Outs at boys and girls basketball games and baseball games. They also ran a toy drive as well as an 8K run. This year, they have raised $13,000 at a Gold Out, which they plan to have more of. The PCC also plans to have a Shave for the Brave event this year where they hope to raise $66,000.
The PCC is a lot of hard work but is "… totally worth it," according to Dunn.
"I just love being able to like help people," Dunn said. "Knowing that what I'm doing, even in a small way, is making a difference in just like one person's life, it's pretty rewarding."
Tammy Kita

by Tabitha Nowak
The "Spirit of Giving" can be found anywhere you look, even within Emmaus High School. Tammy Kita, the English as a Second Language teacher, embodies the spirit inside and outside her job.
Kita helps children who do not speak English fluently assimilate into American life by improving their language skills. She gives back to her students both academically and by supporting them on their journey.
"It's so fun and so rewarding," Kita says. "The most gratifying thing is to see my student's language develop."
Before her job as a teacher, Kita fell into helping the community and the world in a different way.
"I worked with a Peace Corps, and I worked overseas in Grenada, and although the language was English in Grenada, you know it was a different culture," she says.
The Peace Corps works "to promote world peace and friendship" by working closely with people of other countries. Their goal is to help communities and their citizens who are in need of it, many of volunteers taking the role of a teacher.
"Then when I came back…I was able to find a job teaching English in Japan," she says. "So that was my first time teaching English to non native speakers. That was a lot of fun."
Kita then moved on to teach adults at colleges, and later college-age students.
"During that time is when I got the new Pennsylvania certificate to teach ESL. And so, it seemed like a very natural move for me," Kita says. "To me, the biggest, most gratifying this is to see my student's language abilities develop…it's super, super satisfying."
Kita's students say that she has a huge impact on their lives.
"I feel comfortable," says junior Honghui Ren. "She always helps me."
Senior Melina Diaz, who has known Kita for three years, says, "when I came, I didn't know nobody…it was tough. It was hard. She encouraged me."
"[Her class] is wonderful," says Chriswayne Vassal, junior. "She helps us understand."
While her students learn from her, Kita views her job as an ESL teacher a learning experience for herself.
"…the fact that I love other cultures, really plays into [why I started teaching] as well," Kita says. "Cause I feel we have have so much to learn from one another and about one another."
Culture plays a big role in the family: both of Kita's daughters are a part of the Rotary Youth Exchange Program, which gives participants the chance to study abroad for a year. Kenna Kita lived in France two years ago, while Maya Kita is there now.
Kita believes there are a few important things for her students to remember as they learn and live in America.
"Well, I think that they're capable, they're capable," she says. "They need to work hard, and also that they have a real advantage, having a second language."
Declan Schoen
by Cathryn Seibert
When senior Declan Schoen isn't serving as EHS's National Honor Society vice president, one can find him championing for pediatric cancer.
 As vice president of the Pediatric Cancer Club at Emmaus High School, Schoen focuses on fundraising for the cause. He joined the club last year out of a desire to organize another St. Baldrick's Shave for the Brave event, after raising almost $2,000 for the organization as a sophomore. Not only did he collect the most donations of any student shavee, he also designed the T-shirt for the occasion.
Schoen also plans to participate in this round of Shave for the Brave, which will be held on March 24.
"It seems like a big deal, but it's not too big of a deal to shave your head," he said. "It's a small sacrifice to be able to make a good contribution… I greatly encourage everyone to participate because it is truly, in the purest sense, a life-changing experience."
Apart from his involvement with Shave for the Brave, in September Schoen and the EHS Pediatric Cancer Club teamed up with Freedom High School's chapter to sell shirts for their second annual Gold Out initiative, raising $10,000 in support of pediatric cancer research.    
Outside of school, Schoen volunteers with Angel 34, a local organization dedicated to finding a cure for childhood cancer and supporting families affected by it.
He approached the organization at the end of last year, eager to produce videos for them to support their common goal.
"While I was involved with PCC at our school, I kind of wanted to take my talents and do more than just general fundraising," he said. "I'd been gaining interest in videography, and I thought that would be a great use of my talents to help an organization in a way that they might not be able to and really aim to have a professional quality production for them for free."
Now, he serves on their student board, but his focus falls on producing a variety of videos for Angel 34: one, a new version of an already-existing music video, the other, a "narrative-based video, meant to describe in detail the organization," and a shorter version of that video for advertisements.
Schoen has contacted local celebrities for these videos, including Christine Taylor, wife of Ben Stiller and an Allentown-native who played Marcia in the Brady Bunch Movie, among many other roles. Recently, he traveled to a studio in New York City to tape a professional voice-over of Taylor for his video.
Maya Rodgers, one of Schoen's fellow Angel 34 student board members, feels he has been an asset to the program, describing Schoen as "motivated" as well as "thorough and timely."
Through his service, Schoen hopes he can "help those that are less fortunate."
"I have a strong desire to help certain causes, specifically pediatric cancer, and just in general, benefiting causes that relate to children because I feel that those are through no doing of their own," Schoen said. "I feel that… since it's such an important stage of a person's life and can decide their future as well as the entire world's future, I think it's very important to help those people as much as I possibly can."
Macy Van Den Elzen
by Emma-Lin Moyer
Athletes typically set goals to better themselves.  Meet Macy Van Dan Elzen, a freshman at Emmaus High School who set a goal to better her community.  
This season, the 6-foot-2 volleyball player exceeded her goal of 250 kills by earning 264.   A kill in volleyball is when the player hits it over the net and the ball hits the ground.   Her parents decided to give her $1 per kill, and  Macy also got three additional sponsors to raise more money, raising a total of $1,056 for Eyer Middle School's autism program.
Autism is a complex developmental disability that affects 1 in 68 children, according to Centers for Disease Control and Prevention.  Autism can be associated with intellectual disability, difficulties in attention and motor coordination, but in some cases, an excellence in visual, academic, and music skills
Van Den Elzen's inspiration for this project stemmed from her first-hand experience with her brother, Reid, who has Autism Spectrum Disorder (ASD).
"My brother has really changed my life and my perspective on everything.  Autism awareness is close to my heart because of my little brother.  He faces challenges I can't even imagine." she says.
Her brother is currently a 7th grade student at Eyer who struggles with bullying.  When he was younger, doctors said that he would never be able to talk.  Today, he has grown up to be a kind-hearted kid who loves swimming and Disney Films.
"Sometimes people aren't well-educated so they are unaware of his needs, I help him by expressing for him when people don't understand."  Van Den Elzen says. " I just want people to understand that Autism changes their brain but doesn't make them any less of a person.".
Van Den Elzen hopes to continue to play on varsity and donate money to the program.
Her coach, Gwen Hoffman is extremely proud of Macy's accomplishments.
"She has a great work ethic, both academically and athletically, she listens to her coaches and implements whatever needs to be done and is receptive to any feedback."  Hoffman says.  "She is very positive and will be the first one to encourage a teammate or be there for support."
In the future, Van Den Elzen dreams of playing professionally.
"Macy cares very deeply for her team and her family and truly loves her family, her team and the game of volleyball." Hoffman says.  "Macy is a genuine person, she is thoughtful, kind and has a very big heart."
"My brother isn't able to attend any of my games because of his sensory needs. This was a way to share my love for volleyball and my accomplishment with him," Macy says.
Builder's Club
by Noel Santichen
Just a few months after she was born in 2009, Coco Lazaridis developed juvenile myelomonocytic leukemia.
But after extreme treatments, Coco was cleared of JMML, and so her parents, Ali and Jim, decided they wanted to 'pay it forward' by supporting other families in similar situations, so they started the Coco Foundation.
Eyer Middle School for the past five years has helped collect presents for the foundation. The foundation labels the effort a "toy drive," but at Eyer they call it a present drive in the hopes that they get some donations from teenagers.
Kelsey Torpey, a 7th grade social studies teacher at Eyer and friend of the Lazardis family, worked with the Coco Foundation to incorporate the fundraiser into Eyer's Builder's Club, which meets on Tuesdays or Thursdays after school. This is just one of the variety of activities the service organization participates in.
"I thought their holiday present drive would be a great service opportunity for Builder's Club, I wanted to add a twist on it, so I created a website that implores our students, faculty and community members to take an item off their 'wish list' and give a gift to a young cancer patient instead.  Or, those who take part can donate a gift in honor of someone else [as a gift for that person]."
The gifts then go to the Children's Oncology Units of Lehigh Valley Hospital, The Children's Hospital of Philadelphia, and other regional children's oncology units.
She believes this is a great service opportunity for the club, and that it's important they set it up in a way that encourages people to give. This way the donation truly comes from them, even if they didn't buy it themselves or spend their own money, considering most people in middle school don't hold a job.
The donations are thoughtful gifts to give in honor of a friend or a family member, and that students should step back and appreciate everything that they already own instead of asking for more things.
Last year, a group of student athletes at Emmaus High School and members of the Pediatric Cancer Club took it upon themselves to collect gifts for her drive.
"I was so proud that some of the fantastic kids I had at Eyer would take the initiative to help us support this worthy cause. They're much bigger now, but what amazing kids," Torpey said.
She didn't ask them to do this for her, and the act even made her cry.
"It was an incredible moment where I saw EHS students 'paying it forward' in a way," Torpey said. "I can't thank those students enough, nor how can I adequately express how grateful we were for this support."
For more information, visit their website:
Emily Zimmerman

by Erica Love
Emily Zimmerman, an Emmaus High School senior, is a champion for the community and has been doing countless acts of volunteer work for years on end.
Zimmerman has been a member of Girl Scouts since she was in 4th grade. Through the program, she has completed a project to achieve the Girl Scout Gold Award, which is an extensive process that can span over a year.
Zimmerman's project was comprised of gutting and remodeling an unused room in the Lutheran Church of Holy Spirit to make it suitable for new uses. In January 2015 – December 2015, the project was completed, and the church now uses it for contemporary worship services, Zimmerman said.
She believes that reaching out to the community is important because it "promotes leadership in yourself and it brings people together." Zimmerman also wants to show through her volunteer work that teenagers can do good things, instead of being stereotypically delinquent.
For Zimmerman, this community work is contenting.
"I love community and I love promoting community," she said. She hopes to someday have her own non-profit service.
As Emily Zimmerman's Girl Scout troop leader, Marg Iannace has seen firsthand the work it takes to be a successful model of community service.
The Girl Scout Gold Project itself takes at least 80 hours of work, according to Iannace. The project's steps are as follows: girls identify a need or problem in their community, investigate the issue, build a team of at least five people, create a detailed action plan, produce a project proposal and interview with their Girl Scout council, complete the project, and once finished,  must do an exit interview with their council.
Although the work to complete this project is anything but nominal, Emily Zimmerman was able to successfully complete it because of her dedication and leadership skills. "She has a natural drive to help others" and is "extremely easy to get along with," said Marg Iannace.
Maura Benner, who has known Zimmerman through Girl Scouts for roughly five years, has seen the effort and skills necessary to complete a Girl Scout Girl Award project. "[The] Gold Award is all about leadership," said Benner. "You're in a leadership role where you need to make executive decisions."
Benner also added that "She [Zimmerman] is very headstrong and knows what she wants to accomplish. She's very good with people. She's really a great product of girl scouts."
Alexa Iannace, who also met Emily Zimmerman through Girl Scouts, said that it "took a lot of leadership for a high school student to make a plan for a project as big as this [Gold Award project.]" Alexa Iannace said she could see from the beginning that "Emily had natural leadership abilities."
"[Zimmerman] can already at 17 be seen as this leader," said Becca Middeke-Conlin, who was a pastor at Lutheran Church of Holy Spirit during Zimmerman's project's creation. Middeke-Conlin said that Zimmerman "does a great job of interacting with various people at the church."
Though the Girl Scout Gold Award project may be seen as the pinnacle of volunteer work for a teenage-girl, Emily Zimmerman still goes above and beyond in her efforts to be a positive influence on the community.
Marg Iannace said that Zimmerman has earned numerous community service awards through her Girl Scout troop, helped plan and execute the Real Girls Leadership Conference at Cedar Crest College,  and has won the Union League of Philadelphia's Good Citizenship Award last year, among many other accomplishments.
Emily Zimmerman's leadership and volunteer work will surely leave long-lasting marks on the community.
Joseph Pirro
by Luke Maake
As the holiday season creeps closer, the "spirit of giving" permeates the nation, encouraging people to help others in need – but these "others" don't stop at humans.
Meet GSP Rescue, a non-profit dog rescue group that focuses on finding homes for the oft-neglected German Shorthaired Pointer. Operating on funds generated from fundraising and donations, GSP Rescue's network of volunteers works to make sure the dogs are vaccinated, healthy, and matched with the best possible owners. With independent setups in various regions throughout the US, the abused or homeless pointers are rehomed in the same region that they are found.
Emmaus High School English teacher Joseph Pirro loves German Shorthaired Pointers, and has volunteered in the Pa. Rescue for the past 10 years – not in the conventional hands-on form of volunteering, but largely through writing.
"My focus has largely been on education and trying to educate people about the breed," Pirro said. "I write extensively, but I also do some fundraising events when I can fit them in. Whatever we can do to save dogs."
According to Pirro, lack of education about pointers is the primary reason why so many end up in need of rescue.
"This is a breed that often needs rehoming because they end up in the hands of people who don't understand the breed and their need to run and walk," Pirro said. "They're incredibly smart and fast and eager. Every one pointer is like ten normal dogs."
Knowing the history behind the breed helps to understand their high energy levels. German Shorthaired Pointers were bred in Germany as hunting dogs and gundogs, or dogs meant to retrieve game for hunters. With hunting and running ingrained into their identity, pointers constantly need to exert energy.
"Any dog that has that natural hunting instinct is going to be off the wall," Pirro said.
This off-the-wall nature is exactly what causes so many pointers to be inadequately cared for. Pointer puppies pull people in with their cuteness and then overwhelm those same people with their curious, energetic, mischievous personalities. Many pointers end up abandoned or in a shelter, where they are caged and not given the attention or free space they need. This is where GSP Rescue comes in.
The volunteers take in any pointers in urgent need of rescue, whether the dogs be lost, neglected, or scheduled for euthanization in a shelter. All pointers are spayed or neutered, vaccinated, and, in some cases, micro-chipped before they are relocated. Finally, an extensive screening process is conducted to ensure a pointer's new owner can adequately care for the dog.
According to Pirro, the specific, organized way of operating helps the organization to work effectively.
"It's an efficient, structured way of controlling dogs that need help," Pirro said.
Pirro himself owns two pointers, one a rescue, and allows them five acres of fenced-in area to romp and run around. His love for the dogs traces back to his childhood, when he was first acquainted with them. For Pirro, pointers represent more than the average household pet.
"These dogs are incredibly important in my life in what they stand for and represent," Pirro said. "I expect people to be as graceful, intelligent, and driven as these dogs are."
Beyond his commitment to helping pointers in need, Pirro volunteers for GSP Rescue simply to give back to the community, which he believes is something everyone should do.
"People should volunteer for something that they care about and can have an impact on, " Pirro said. "Everyone has to give back to the community in some way in something."
CREDITS
Photography by Rachel Reed.
Grace Harnett photos courtesty of Harnett.
Macy Van Den Elzen photo courtesy of Laura Groh. 
Builder's Club photo courtesy of Kelsey Torpey. 
Joseph Pirro photos courtesy of Pirro. 
Layout by Cathryn Seibert.