School board meeting draws supporters of transgender students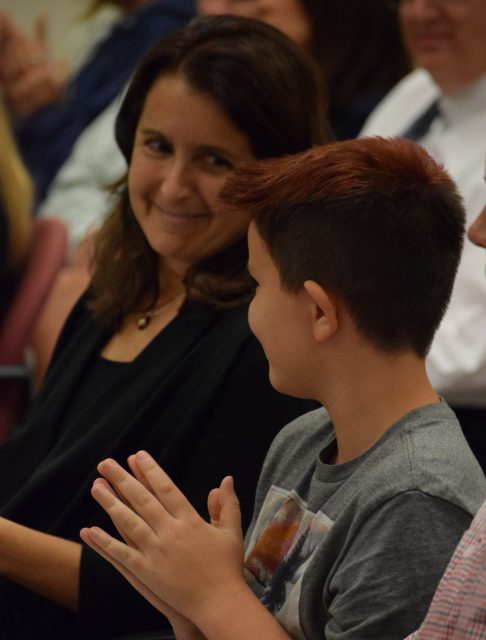 On Monday night, 17 community members spoke out in support of transgender rights at East Penn's school board meeting.
These students, parents and professionals spoke during the public comment portion of the meeting, sharing their personal experiences and hopes for future inclusivity in the district. Of those who attended the meeting, some reside in the district, and others travelled from locales as far away as Philadelphia.
Many of them gathered in support of Alisa Bowman and her transgender son, Ari Bowman, a seventh grader at Lower Macungie Middle School.
Bowman created a Facebook group encouraging community members to support her son, who wished to respond to the statements of an EHS freshman made at an Aug. 22 board meeting.
During the meeting, freshman Sigourney Coyle stated that she feels uncomfortable changing in front of someone who identifies as female but "is physically male." She attributed her discomfort to her Christian faith, which does not allow a woman to undress in front of a man before marriage. Her concerns stemmed from the Obama administration's Title IX, a directive which forbids discrimination based on gender in federally-funded schools.
Sigourney and her mother, Aryn, did not attend the Sept. 12 board meeting.
"I chose not to go because things are already tense," Sigourney said.
Since the August board meeting, the Coyles have received numerous death threats and hateful messages via email and social media, according to Sigourney.
After Coyle's story appeared on various news sites, vitriolic messages on social media also prompted Ari and his mother to speak at the recent board meeting.
"… I read the news after the last school board meeting, and I saw comments from people that I trusted with his care, people who, until just a few weeks ago, I thought of as friends and neighbors," Bowman said.
Although the family saw many hateful remarks, those attending the board meeting fully supported Ari and the transgender community.
A local reverend, Timothy Dooner; a family doctor, Kristin Bresnan; and the Vice President for Public Safety at the University of Pennsylvania, Maureen Rush, were among those who voiced their opinions during the public comment section of the meeting.
Read our full coverage in The Stinger's upcoming September issue which publishes next week.
---
Photos courtesy of Delaney Gottschall.