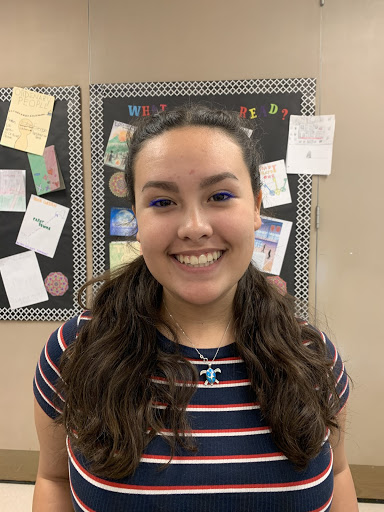 Many teenagers with a biracial background have the opportunity to embrace their different cultures and make them part of their identity. Junior Belen Bridges shows pride in her mixed culture through Hawaiian and Mexican dancing. 
From a young age, the power of dance has filled Bridges with a feeling of belonging in her culture. Almost everyone in her family has done hula or mexican dancing as a way to immerse themselves in their heritage.  
Growing up in and around Cancún, Mexico, Bridge's mom was immersed in a community of people that knew Mexican dances. When she moved to the United States, she searched for a similar community and found a Mexican dance group. Around the age of two or three, Bridges began dancing in that group with her mom. The group danced for a lot of cultural events like the birthday of the Virgin Mary. When Bridges was in third grade, she performed a Mexican dance for the Willow Lane Elementary talent show audience.
Along with her mom's Mexican dancing, Bridge's dad and his family dance hula. Every Sunday, her dad and herself drive to Lower Manhattan, New York for hula practice with the Pua Ali'i ilima dance group. The practice lasts around three hours and the classes include a wide range of ages. 
"The oldest person in the group is 70 or 80 and I'm most of the time the youngest, or there's another 16-year-old," Bridges said. "It's a mix of people and it's really fun."
The class is taught by a heavily trained Kumu Hula, or an instructor. Becoming a hālau is not easy—they must dedicate their lives to learning and grasping the full hula knowledge. Not only do the instructors go through a lot, but so do the students. Hula has very strict rules, but all out of respect. The students are prohibited from teaching to anyone, sharing dancing on the media, and/or dancing with another hālau. 
Developed in the Hawaiian island by the Polynesians, hula portrays stories in a visual form. Every story is affected by hula because hula is what carried the stories around the islands and beyond. The stories are told in the movements of the arms and in the chants the dancers assert. The chants require a great amount of memorization, but Bridges claims they have helped her gain knowledge of the culture and even aids in understanding some of the language. Hula is known as the one dance that everybody knows and everybody does and is considered "the heartbeat of the Hawaiian people." There are variations, but they aren't drastic. It has evolved here and there but has, overall, remained similar. Dancing hula is an approach to show respect and to worship the Hawaiian gods. 
Mexican dance is believed to be the oldest form of dance. The dance is a blend of various influences and the number of varieties is extensive. Mexican dancing varies all around Mexico because it is divided up and not one whole community like Hawaii. 
"I prefer dancing hula," Bridges said. "I like both my cultures and I'm in touch with both of them, but hula is easier to connect to because you're telling a story, and you're looking at your hands, and you're singing or chanting about something. It's just very powerful. Mexican can be powerful too and it can be telling a story, but I feel like [hula is] just easier to connect to emotionally."
Bridges plans on continuing hula and Mexican dance for the rest of her life.  
"It's a big part of my family and culture," Bridges said. "I wanna be able to dance it and share it with everyone too. It's in my blood."